Going from a gamer's wife to a gaming wife changed our marriage
From the time I met him in high school my husband has been a gamer. He enjoys games of pretty much any variety from video to computer to roleplaying and more. I wasn't so much a gamer. As a kid I played some Nintendo (I loved "Paperboy!") and played family board or card games, but that was it. When we got married 21 years ago, I knew he was a gamer, but gaming was his hobby and not mine.
The early days of gaming and married life
In the early days of our marriage when we were still in college, my husband and his friends even had a weekly roleplaying night. I would sometimes bake treats for them (like brownies), but that was about the extent of my involvement with gaming. After all, I reasoned, spouses should have their own interests and hobbies.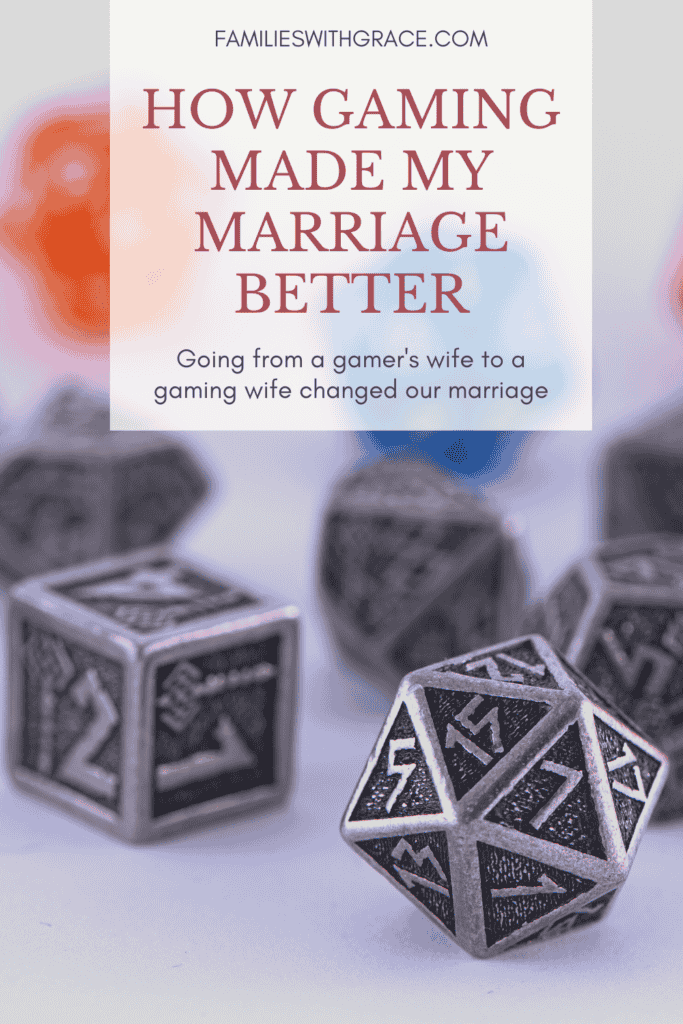 I remember some of the other girlfriends and wives complaining about the guys' gaming. It didn't usually bother me. I knew my husband was a gamer when we got married. And his roleplaying nights gave me a chance to have some downtime of my own. The times he played video games through the week didn't bother me so much. He didn't put them before me, and I could easily tune them out while doing homework and such.
But, I began to realize that since gaming was such a big part of my husband's life, I wanted to learn more about it. So, I took on a writing assignment for my college newspaper about a new gaming console. Off the record, I interviewed my husband for background information. After all, he wanted the new console, and I wanted to understand how it was different enough for us to budget money to buy it!
Slowly, I was starting to learn about his hobby, but I still wasn't so into it. Every so often I played a video game with him, but I never participated in roleplaying games.
Starting to shift from gamer's wife to gaming wife
Then, about five years into our marriage, things slowly shifted. We were no longer college students but young professionals. My husband's video gaming with his friends was now more online than in-person. And he asked me to go along with him to a nearby gaming convention on a Saturday. It was a convention for tabletop games like roleplaying, trading card games, board games and the like.
I agreed to go and was overwhelmed by how many people attended and how much stuff there was. My husband tried a couple of game demos in the convention hall, and I watched. I didn't feel comfortable at all with trying any demos myself.
Around this same time, my husband also shared with me a book series related to the role-playing game, Dungeons and Dragons. We decided to start reading R.A. Salvatore's "The Legend of Drizzt" books together. As a lifelong avid reader, I'd never been into fantasy books at all. But, it wasn't long until I was so wrapped up in the story of Drizzt that I couldn't put the books down. I passed up my husband and kept on reading.
(The series is now 36 books long and I've read every single one of them. We have a painting of Drizzt on our living room wall and a figurine of him on our mantel. To say I became a complete fan girl is a bit of an understatement!)
We returned to the same gaming convention the next year. I found myself getting more drawn in and fascinated to see so many things related to what I had read about.
Giving gaming a try
Soon I started playing games with my husband. I joined in on some video games (my favorites were when he could lead the way through a board). We started playing some board games that were more fantasy-related rather than family board games.
And then I decided to give roleplaying games a try. I started with my husband and his friends. It was a little weird to go from being the snack maker to being one of the gamers as well. But, you know what I learned? It was fun! My shifter from gamer's wife to gaming wife had been made and there was no turning back.
Each year, we attended the same gaming convention for multiple days and played various games. I was hesitant to try demos at first for fear of not learning the game well and embarrassing myself. After a couple of years, though, I got more confident and could learn most games pretty well from the start. Demos no longer intimidated me.
Once we had children, gaming became more challenging. Many of our gaming buddies moved away from us, which made it challenging as well. But we still loved playing together whenever we got the chance. That remains true to this day (well, it will once we are through this pandemic). And as a result of gaming, our marriage grew stronger.
Gaming and marriage
While our marriage was first strengthened by my taking an interest in a hobby my husband enjoyed, it grew even stronger once I started gaming as well. I know some women grouse about their guys playing games. I get that. And I also understand video game addiction is real.
However, my experience with gaming and marriage has been positive. I learned early on to look at my husband's gaming time as time for me to do things I wanted to do. My husband has always made me (and later our children) a priority over gaming. That helps as well.
Gaming together has brought us closer. We now get to see each other in new ways and have fun stories to recall together. We still laugh about the time my character nearly died just trying to walk around a valley in a roleplaying game years ago because I got one bad dice roll after another.
I love getting a chance to see my husband's creativity come to life. He is a magnificent game master (meaning person in charge of the gaming session). He is quick-thinking and can come up with all sorts of scenarios and handle whatever the players throw his way. I also get a chance to see his leadership ability (which is one of his innate skills).
Gaming together helped me understand more why he is so good in a crisis; he sees multiple options and contingency plans. He's a smart guy. He's also a fabulous strategist. Once after my husband finished a demo of a new game at one gaming convention, the game's creator shook his hand. He raved about how my husband had come up with such a great strategy.
Gaming has taught me more about my husband. I think it's taught him more about me as well. And it's helped me grow and evolve. Real-life Stacey wouldn't be nearly as bold as some of the characters I've played. As an introvert, thinking quickly on my feet is often challenging for me, but I'm now much better at doing so.
Gaming as a team
The final aspect of gaming and marriage is working together as a team. In roleplaying type games, players work together for the common good. When my husband and I get to play together (when he isn't in charge), we also get to work together. It's good practice for real life. Just as real-life Stacey and Chris know each other's strengths and weaknesses, so we also learn those of our characters and as gamers. We can better work together as a result.
And when we are on opposite sides and my husband is the game master in charge of the bad guys, I have learned he doesn't have it out for us players. I don't take things so personally. (It was a bit of a struggle in the early days, I admit!) I know he is working to ultimately make sure we have a fun and interesting gaming experience.
While gaming isn't for everyone, it's been a really good hobby for my husband and me. He's still the bigger gamer between the two of us. However, I'm glad to have this hobby we can share together whenever we get a chance. Gaming and marriage really can go together quite nicely!