A simple summer dinner idea!
Affiliate links are used in this post; if you make a qualifying purchase via my link, I receive a small percentage of the sale at no additional cost to you. I only recommend products and services I use and love. It helps support my blog, so thank you for your support! Read my full disclosure here.
I've got another simple summer dinner idea for you this week: slow cooker potato chili. It's an easy recipe that has you using your stove before the day gets hot. Your slow cooker does the rest of the work.
I love making food in my slow cooker because I can do it early in the day and then basically forget about it. The last time I made this potato chili, for example, we had a play date at the park and came home hungry right at dinner time. It was perfect to come into our house with dinner ready for us. And this slow cooker potato chili recipe is a nice mix of meat and potatoes with just a hint of spice that is delish on a hot summer day (or a cold winter day!). Honestly, it's a year-round weeknight family dinner you'll love!
Prepping the ingredients
Start with getting your ground beef cooking. For us, I used 1/2 pound of ground beef. You can use up to 1-1/2 pounds if your family loves meat or you're feeding a lot of people. My family isn't big on eating meat, so using 1/2-pound to serve the four of us this potato chili was perfect. You want to crumble, brown and then drain your ground beef. (You could also use ground turkey or ground pork for this. I actually tossed in a small amount of mild Italian sausage with my ground beef that I had left from another recipe.)
Cooking the meat is the only active cooking you'll do for this potato chili recipe. If you have cooked and crumbled ground beef in your freezer (like I often do), then you don't even have to do this step!
While the meat is cooking, you want to prep your salsa and your potatoes. I use mild salsa for my family because the majority of us are not into spicy food, but you could certainly use medium or even hot salsa if you family likes spicy. A quirk of some of my family members is also that they don't like things chunky. So when we have salsa at home for any reason, I puree it in my food processor. Using it in this recipe, I do the same thing, but you can totally skip this step if you don't mind some chunks in your potato chili.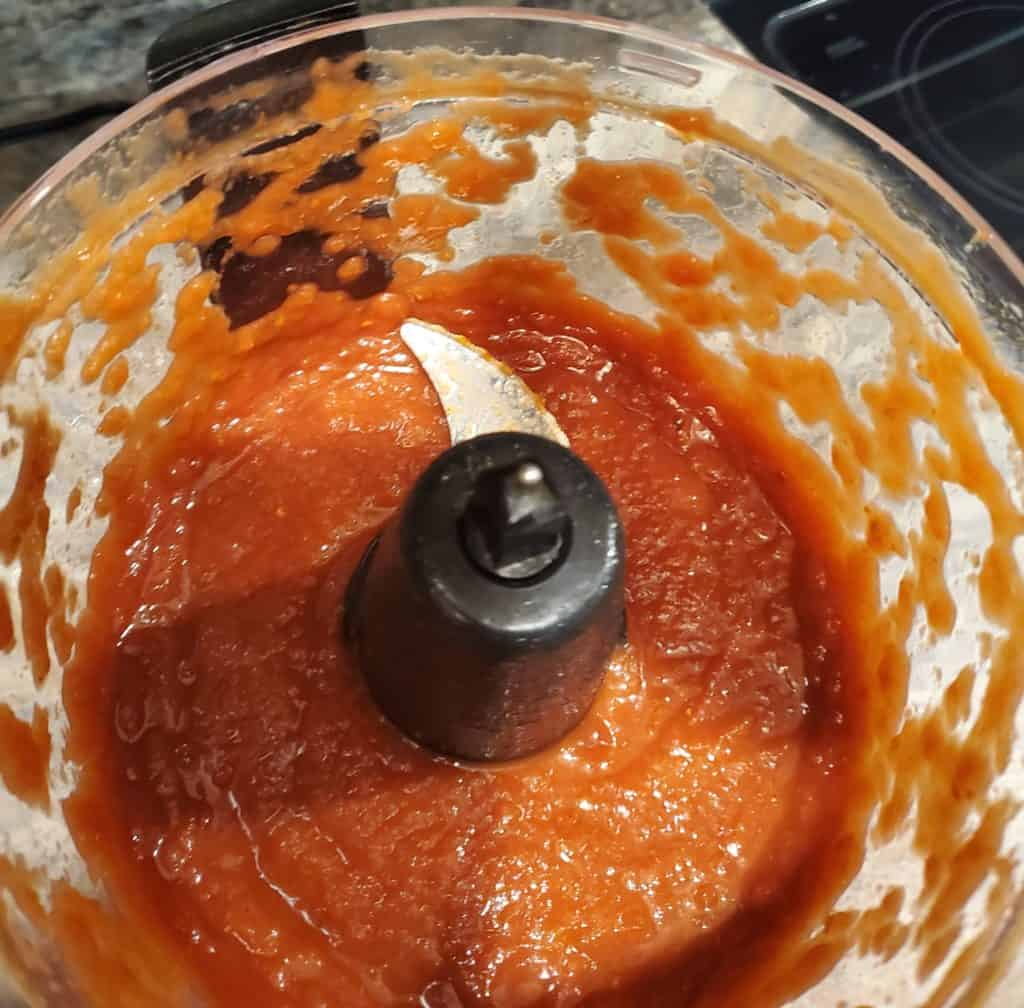 For the potatoes, you want to dice them up. I cut them relatively small, but they could have been even a bit smaller. You can use Yukon gold potatoes, but I love these petite gold potatoes. Even better, they come pre-washed, so all I have to do is cut them! In a pinch, you could also use southern-styled frozen hash browns just like in this easy slow cooker potato soup.
Putting it together in the slow cooker
The very first thing I do before making anything in my slow cooker is to line the slow cooker. It makes clean-up a million times easier! Making this potato chili recipe is no different.
If you don't use slow cooker liners, give your slow cooker a bit of a light covering of non-stick cooking spray. Then pile all of your ingredients, except the cheese and sour cream, into the slow cooker. I add meat first.
Then add in the 1.5 pounds of potatoes.
Next, pour in 16 ounces of salsa (pureed or not).
After that, add in 1 can of condense cream of potato soup.
Finally, add 1 tablespoon of chili seasoning.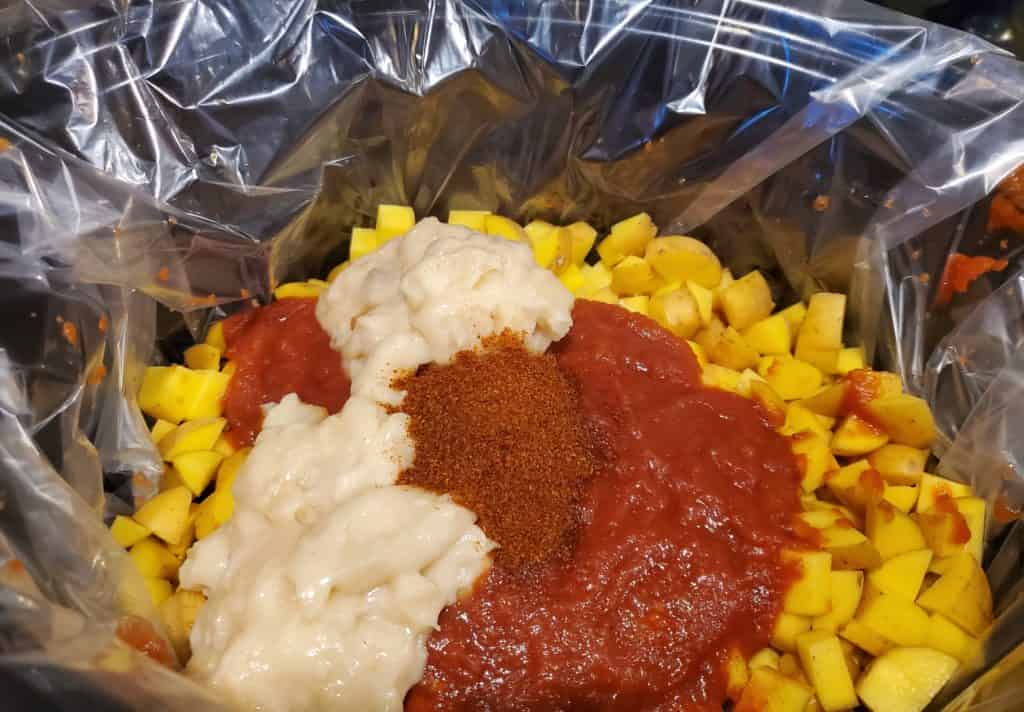 Give everything a good stir so it's combined, put the lid on your slow cooker and set the temperature to low.
Cooking and serving the potato chili
Let your potato chili hang out on low in your slow cooker for about 8 hours until the potatoes are tender. I stir it every couple of hours because I work from home and can do so. Here is what it looks like about halfway through the day:
Finally, when it is all finished, it looks like this:
Spoon the potato chili out into bowls and serve it warm. It's so yummy! My daughter and I like to add black beans to ours. So I open a can of them, strain them and then we add them in to our individual bowls. (The potato chili is so hot, that we don't even need to heat the beans.) You can use any beans your family likes. If you want to add them into the slow cooker to cook all day, that also works. It just isn't an option for my family.
We have also added frozen corn in with the potato chili and love the flavor it brings. You can put the frozen corn into the slow cooker from the beginning or steam it in the microwave and then add it in to individual bowls. So good!
And then my own philosophy is that cheese and sour cream make any chili better. That's true for this potato chili as well, so I top mine with shredded cheddar cheese and a dollop of sour cream.
My family likes to eat this potato chili with corn chips that we can scoop the chili with, but you can also try it with tortilla chips or crackers if you prefer. Either way, it's a hearty, filling dinner that won't heat up your kitchen on hot summer evenings!
Slow cooker potato chili
An easy slow cooker potato chili perfect for weeknight family dinners
Ingredients
1/2

pound

ground beef, pork or turkey

can use up to 1/1-2 pound depending on your family's preferences or to feed more

1-1/2

pound

gold potatoes, cubed

1

16 oz. jar

salsa

1

10.5 oz. can

condensed cream of potato soup

1

tablespoon

chili powder

1

15.25-oz. can

black beans

optional

1

12-oz. bag

frozen corn

optional

1/2

cup

shredded cheddar cheese

optional

1/2

cup

sour cream

optional
Instructions
Cook ground meat in a large skillet until browned and crumbly. Drain the meat and put it into a 5- to 7-quart slow cooker that is lined with a slow cooker liner or lightly sprayed with non-stick cooking spray.

If desired, puree the salsa in a food processor to avoid chunks. If not, move on to the next step.

Add the diced potatoes, salsa, cream of potato soup and chili powder. If desired, add 1 15.25-oz can of strained black beans and/or 1 12-oz. bag of frozen corn. (You can also add the black beans and corn to individual bowls after the potato chili cooks. The beans can go in at room temperature, but heat the frozen corn before adding it.

Cook in the slow cooker on low temperature for 8 hours, until the potatoes are tender.

Serve with optional shredded cheddar cheese and sour cream on top.
Check out these other simple summer dinner ideas: