Easy-to-make buttercream frosting so scrumptious everyone will think you got it from a bakery!
Affiliate links are used in this post. If you make a qualifying purchase via my link, I receive a small percentage of the sale at no additional cost to you. I only recommend products and services I use and love. It helps support my blog, so thank you for your support! Read my full disclosure here.
Oh. My. Gosh! I am still flabbergasted about this buttercream frosting recipe. I've tried various recipes for buttercream frosting and didn't love any of them. I don't want my icing to taste too buttery. But, I don't want it to be so sweet that it makes my teeth ache.
Finally after tweaking with recipes, I've done it. I've created the best buttercream frosting! Even better is that it really is easy enough for anyone to make. This is completely doable for anyone with some basic ingredients and a mixer (handheld or stand).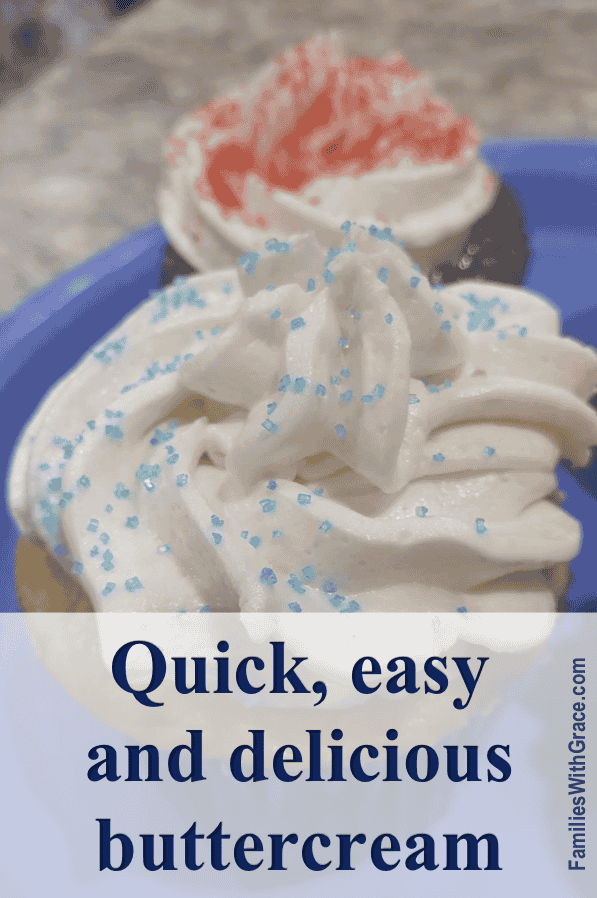 I'm an icing lover. LOVER! I love cake and cupcakes, especially if they are moist and delicious. I told you a couple of days ago about the four tweaks I use to make cupcakes (and cakes) better than the bakery. But all that yummy cake needs something special on top of it. I have eaten icing from so many bakeries and so many different types. Some are so super sugary. Some are greasy. This one is just right.
Now I'm going to guess you're thinking that of course I love it because I love icing. And that's true to an extent (I have tasted some mediocre icing, to say the least!), I have even more proof: My husband loves this buttercream frosting! I have never, ever, ever made an icing that my husband likes or encountered one from a bakery that he likes in the 20-some years I've been baking for the guy.
I am beside myself with joy! My husband is a nice guy and doesn't say things to be mean, but he is also honest and will tell me if I make something he doesn't care for. The fact that he not only told me the icing was the best he's ever had but then proceeded to eat a few cupcakes with it on top has made me swoon!
So, of course, I've got to share the recipe with you. You already know how to make yummy sponge (as they say on all the baking shows!) thanks to the tweaks I've shared. Now you can make yummy icing for the top with just a few ingredients. While you can top your cupcakes with the buttercream frosting by smearing it on with a butter knife or spatula, I use a pastry bag and star tip. It used to intimidate me, but it looks pretty and it really does take less time to frost cupcakes. I have no cake decorating skills and I can make them looked swirled OK. You can do it, too!
While I whip up this icing using my beloved Kitchenaid stand mixer, you can also make it with a handheld mixer. The recipe below makes plenty of icing for one cake or 24 cupcakes. (And if you have a bit extra and want to lick it from the bowl, I won't judge you because I totally did the same thing!)
Making the frosting
Listen, I know that shortening isn't so healthy. Of course, neither is butter, but you really do need both for this recipe. I buy baking sticks and then store them in the fridge. Honestly, this is the only recipe I use them for, but it's so worth it!
Put the butter and shortening into a large mixing bowl or the bowl of your stand mixer and cream them together. Basically, beat them together until they are smooth and fluffy.
Next, gradually add in the confectioner's sugar until it's fully incorporated into the butter/shortening.
Once the confectioner's sugar is incorporated, then add the vanilla and stir it in. Next, add in the milk on low speed (otherwise it will splash out and hit you). Once the milk is stirred in, then beat the buttercream icing on medium to medium-high speed for three to four minutes until it's nice and fluffy.
Use the butter cream to frost completely cooled cakes or cupcakes. You can add food coloring if you'd like. One batch makes enough icing for one 9×13-inch cake, two 9-inch round cakes (with icing between the layers) or 24 cupcakes.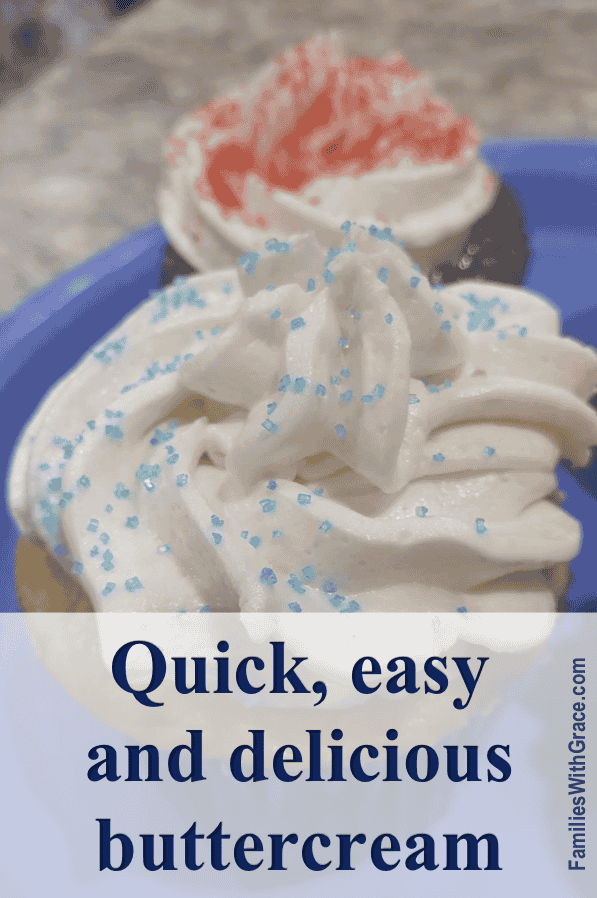 Quick and easy buttercream
This quick, easy and oh-so-delicious buttercream frosting recipe is so scrumptious that everyone will think you bought it from a bakery!
Ingredients
3/4

cup

salted butter

1/4

cup

shortening

trust me on this!

4-1/2

cups

confectioner's sugar

1

tablespoon

vanilla extract

1/4

cup

milk

Food coloring

if desired
Instructions
Cream the butter and shortening together with your hand mixer or paddle attachment on your stand mixture. Beat it up it is smooth and fluffy.

Gradually add in the confectioner's sugar until it's fully incorporated.

Beat in the vanilla.

Add the milk and once it's incorporated a bit, beat on medium to medium-high for 3 to 4 more minutes.

If you're adding food coloring, drop it in and mix until the color is even and smooth.
Be sure to also check out my 4 easy tweaks to make cake mix cupcakes taste better than bakery ones!