Crispy, delicious quesadillas made in your oven
Affiliate links are used in this post, if you make a qualifying purchase via my link, I receive a small percentage of the sale at no additional cost to you. I only recommend products and services I use and love. It helps support my blog, so thank you for your support! Read my full disclosure here.
I love easy recipes that are customizable for what my family likes. I've got a couple of particular eaters in my house. This easy baked quesadilla recipe fits that category.
Before we had kiddos, I came up with this recipe for my husband and me and I continue to make it now. This recipe is pretty straightforward and simple but you can switch it up to include whatever your family likes.
Preheat the oven to 400-degrees (F) and prepare your baking sheets. You can spray them with non-stick cooking spray or line them with sheets parchment paper or silicone baking mats.
I prefer to line my baking sheets for easier clean-up. I also like the parchment paper because then I can use a marker to write the first initial beside the quesadilla of who it belongs to since they are all different in some way.
Once you're all set up then get out your tortillas. I use two tortillas per quesadilla, but you could also use one quesadilla folded in half.
Tortillas are where the baked quesadilla recipe starts. You could use wheat tortillas. I used flour. And you can pick the size. I made smaller soft taco-sized tortillas for my son's quesadillas. I used the larger burrito-sized tortillas for my husband, daughter and me.
To help them crisp up nicely in the oven, I spritz one side of each tortilla with margarine spray. You can also use melted butter and your spray bottle to spritz the shells or lightly brush it on. I do around 10 squirts for the large burrito-sized shells. I spray the bottom first and then spray the top shell after I place it on top when the filling is in.
With the buttered side face down onto the cooking sheet, put the filling in your quesadillas. Get creative with what your family likes. My son's was just cheese. My husband's had bacon and onion with a small amount of cheese.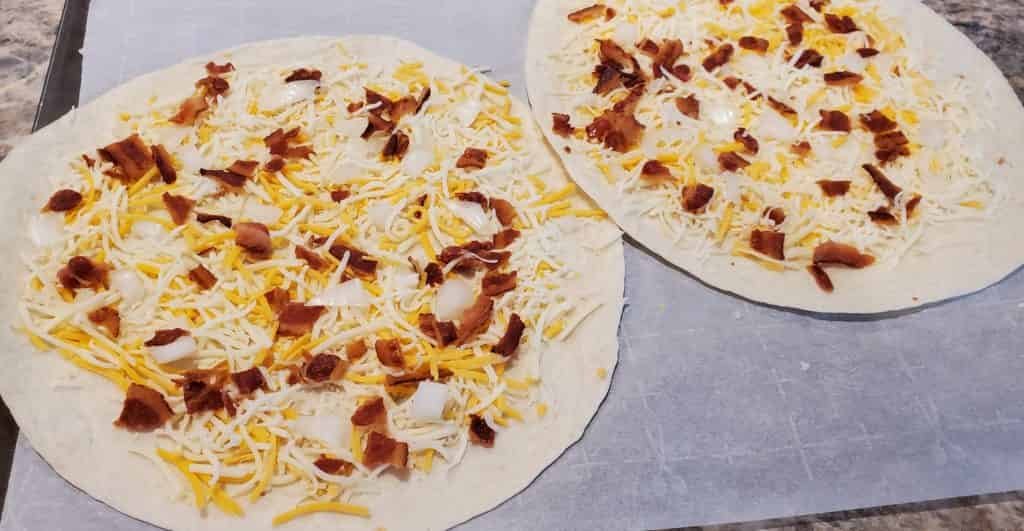 My daughter and I opted for a chicken bacon ranch version. It was so incredibly good. To make it easier, I used precooked refrigerated chicken, precooked bacon cooked to a crisp in the microwave, ranch dressing, tomato, onion and roughly chopped baby spinach.
Put the quesadillas into the preheated oven and bake them for 6 minutes. Pull them out and flip them over. Put them back in the oven for another 6 minutes. Check and see if they are golden brown around the edges. If so, they are finished. If not, leave them in there and check again in 2 minutes.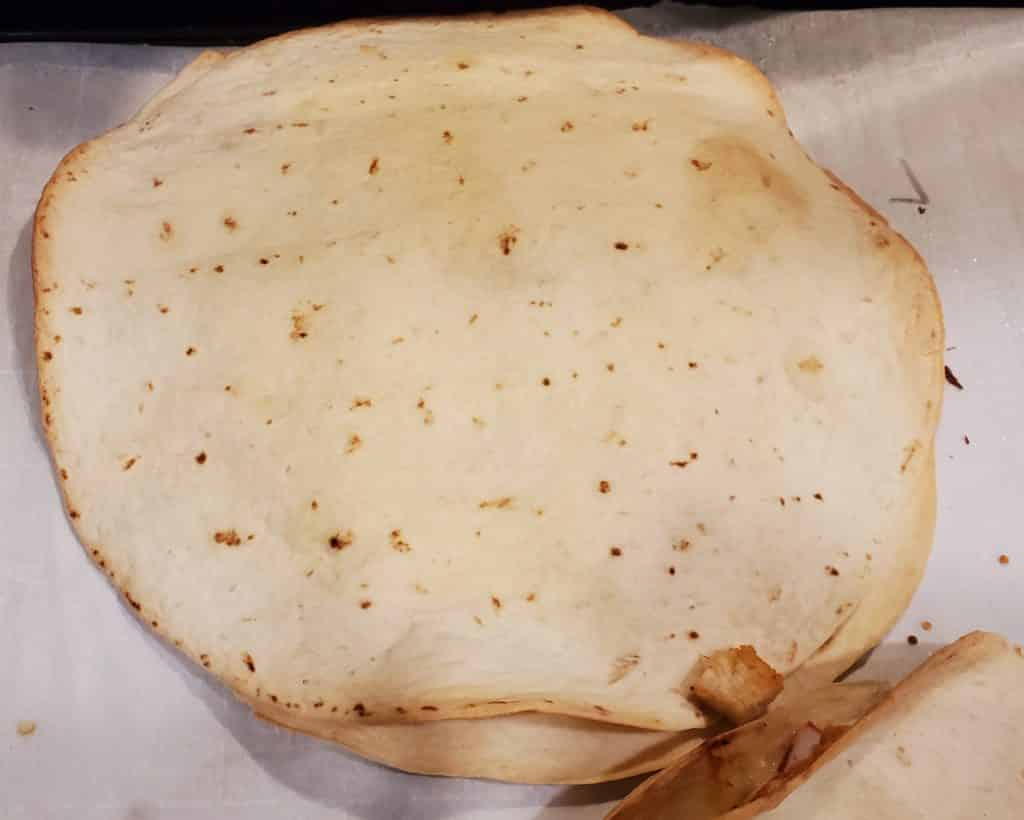 Use a pizza cutter (or sharp knife) to slice the quesadillas and serve them warm. We always eat sour cream with ours, because our family LOVES sour cream!
Easy baked quesadillas
Ingredients
Flour or wheat tortilla shells

soft taco or burrito size, depending on how big you want your quesadillas to be, 2 per quesadilla

Spray margarine

can also use melted margarine or butter or, in a pinch, non-stick cooking spray

Shredded Mexican blend cheese

Shredded Italian blend cheese

Quesadilla fillings

such as bacon, chicken, ground beef, steak, onions, peppers, tomatoes, etc.
Instructions
Preheat the oven to 400-degrees.

Prepare baking sheets with non-stick cooking spray or line them with parchment paper or silicone baking mats.

Get out one tortilla shells per quesadilla. Cover on side of it with the margarine or butter. (For spray margarine, I use 8 to 10 squirts and smear it around with my clean hands.)

Please the shells buttered side down onto your prepared baking sheet(s).

Put your filling ingredients onto the top of the shells. Top them with cheese. I use 3/4 Mexican blend or colby jack cheese and 1/4 Italian blend or mozzarella cheese. The amount of cheese varies based on the size of your shell and your family's preferences.

Then add whatever ingredients your family prefers. I love chicken bacon ranch using precooked, refrigerated chicken, precooked bacon cooked until crispy in the microwave, shredded cheese, ranch dressing, tomato, onion and roughly chopped spinach.

Place another tortilla on top. Lightly cover it with margarine or butter, just as you did the bottom shells.

Place into your preheated oven for 6 minutes.

Pull out the quesadillas and carefully flip them over.

Bake for 6 more minutes or until the edges are a nice golden brown.

Use a pizza cutter or sharp knife to slice and serve hot. We usually serve ours with sour cream because we love it!