These toffee cookies are the perfect mix of chewy and crunchy!
Affiliate links are used in this post, if you make a qualifying purchase via my link, I receive a small percentage of the sale at no additional cost to you. I only recommend products and services I use and love. It helps support my blog, so thank you for your support! Read my full disclosure here.
A good 15 years ago, I first came across a recipe for toffee cookies. I tried making them. They were sticky and chewy, yet crunchy. While I felt like they were pretty good, a few of my family members fell in love. I've tweaked the original recipe a bit to make them even better.
Each Christmas these toffee cookies are on my baking list. They aren't optional. In fact, I think if I showed up to my mother-in-law's house on Christmas Day without them, I'd not be allowed in! (OK. I would totally be allowed in because my in-laws are really nice people, but they would definitely ask where the toffee cookies are!)
In all of my years of cookie making, these really are the most unique I've made. I don't make another cookie at all like them. I have so many recipes that have different flavors, yet are similar or expected. These toffee cookies are unique, and they are a addictive. Listen, I don't usually think desserts are worth eating if they don't have chocolate in them, and even I can happily munch away on them. The good news is that they are not difficult to make!
It all starts with mixing the flour, baking soda and salt together in a bowl then setting it aside. In your main mixing bowl (or the bowl of  your stand mixer, if you're going to use it), mix up the butter or margarine with the sugars and vanilla. I'm going to stop right here and tell you the state of the butter or margarine is crucial in this recipe. If it is softened, the cookies won't be as chewy. But, if it is slightly melted, then they are the perfect consistency — chewy, yet crunchy. I heat my stick margarine for 1 minute at 30 percent power in my microwave to get it to this state:
After you mix together the butter or margarine, sugars and vanilla, add in the eggs. When it's beaten together, the mixture will be thin and runny.
Gradually stir in the mix of flour, baking soda and salt. If you're using your stand mixer like I do, make sure you mix it in slowly or else you'll end up with flour all over everything, which is just plain annoying! Once it's all mixed up, it will be thickened.
The final step is to stir in the toffee chips. I use 12 ounces, which is a bag and a half of Heath Bits O' Brickle toffee bits. I totally estimate the half bag, but you could definitely measure it out. Also, be sure to look for the plain toffee bits and not the milk chocolate covered ones. The milk chocolate ones are good, but this recipe does best with the plain toffee bits.
All that's left to do is freeze it or bake it. I store it in zip-top bags for freezing and lay them flat. This dough freezes and thaws well. For baking these sticky treats, though, be sure to either spray your cookie sheets with non-stick cooking spray or use parchment paper. I discovered the joy of parchment paper a few years ago, as I told you last week in my tips for Christmas crunch time, and I highly suggest it for these cookies, especially.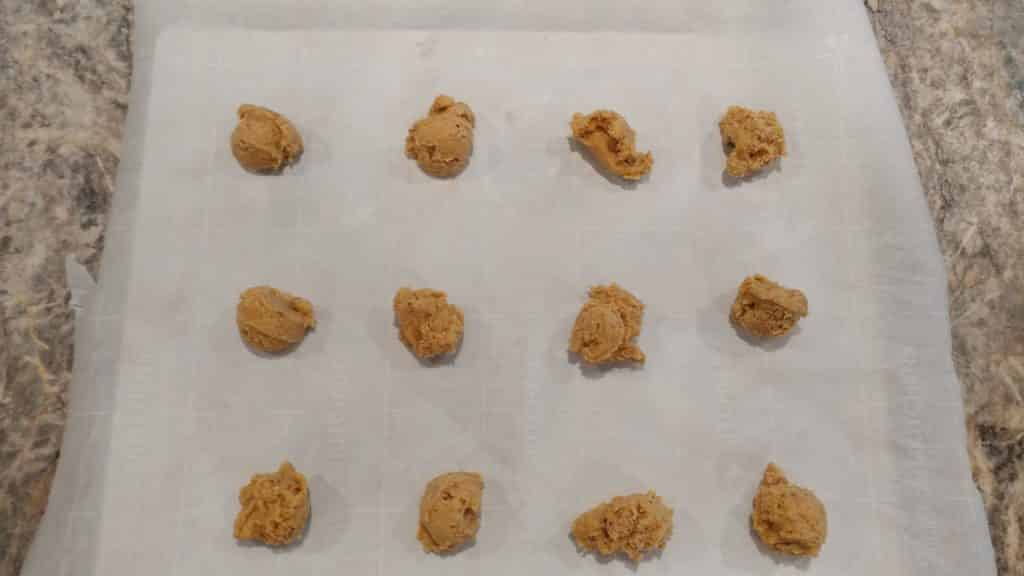 After baking at 350-degrees for 9 to 11 minutes, let the cookies cool for 1 to 2 minutes on the cookie sheet and then remove them to wire racks to finish cooling. The wire rack helps add the extra crunch to the cookie. You can just see the shine of the gooey, sticky toffee on the cookies as they're cooling.
Arrange them on a cookie platter or put them in a zip-top bag and enjoy! The best thing about these cookies is that they are hearty. Of all the cookies I make, these have the longest shelf life and really do taste good for at least a week as long as they are stored covered. 
The BEST Toffee Cookies
Ingredients  
2-1/4

cups

all-purpose flour

1

teaspoon

baking soda

1/2

teaspoon

salt

1/2

1 stick cup butter or margarine, mostly melted

3/4

cup

granulated sugar

3/4

cup

packed light brown sugar

1

teaspoon

vanilla extract

2

eggs

12

oz.

Heath Bits O' Brickle toffee bits

1-1/2 bags
Instructions 
Heat oven to 350-degrees and lightly grease cookie sheet or line with parchment paper.

Stir together flour, baking soda and salt.

In a large bowl, beat butter or margarine, granulated sugar, brown sugar and vanilla until well blended.

Add eggs and beat well.

Gradually add flour mixture, beating until well blended.

Stir in toffee chips.

Drop by rounded teaspoon onto prepared cookie sheet.

Bake 9 - 11 minutes until lightly browned. Cool for 1 to 2 minutes on the cookie sheet then remove to a wire rack to cool completely.