This easy Valentine craft is perfect for preschool through early elementary kids!
My oldest kiddo is in third grade and my youngest is in kindergarten this year. I try to go in and help with their classes whenever I get a chance. I have learned that the most opportunities to do so happen in kindergarten and lessen every year after that. Because I have a flexible work schedule and grandparents in town for babysitting (back before my son was in school), I've been able to go in for many class parties.
Somehow I end up on craft duty for almost every party. It's uncanny, in fact, because I don't enjoy crafts and I am not especially good at them. But, it helps that I'm working with young kids so they aren't all that great at them either. We are on the same level!
I've done multiple crafts for various holidays at different ages through second grade. (Third grade has very minimal parties that don't tend to do much other than snack.) This year I ran the kindergarten Valentine craft station. It was sort of a last-minute assignment. I had signed up for the party at the beginning of the school year, but didn't get any information on it until a few days ago. I decided to make a craft with the kids that I first made with my son when he was a toddler.
How to make the craft
Of all the crafts I've done with all the ages, this kindergarten Valentine craft was the absolute smoothest and most successful. It was the easiest for me as well and took minimal supplies and minimal prep work. Seriously. This craft is that easy and good! It would be ideal for littles or could easily be adapted for older kids as well. And it also works as a great Valentine card or gift!
You simply use a piece of paper and write across the top: "I love you to pieces." Underneath, you draw a big heart. The kids then take pieces of construction paper, tear them up and glue them onto the heart.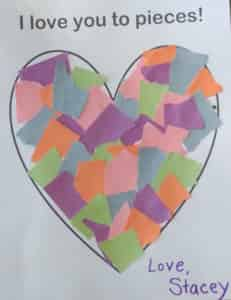 Older kids can do their own writing and heart drawing. For the kindergarten Valentine craft and the 10-minute party station setup, I made printouts for each of them instead with the word already printed on there.
I took pieces of construction paper and cut them into about nine squares each so they were easy to pass around as the kids were working. I bought some glue sticks at the dollar store. When the kids arrived at my station, I read over the words with them on the sample I made. They knew most of the words except for "pieces." I then asked them to write their name somewhere on the front and let them at it.
Why kids love it
This Valentine craft was simple enough that almost nobody needed help. Being allowed to rip paper was fun for most of them. A few kids needed some encouragement to freestyle with it and not try to make a geometric pattern to fit into their heart precisely. A couple wanted to use scissors, but it was by far the best craft I've run. I got to chat with the kids while they worked and encourage them. I enjoyed seeing all the different ways they decorated their hearts with big pieces and small pieces of construction paper.
This craft worked well in the 10-minute timeframe. Most kids were able to finish their hearts, but a few would have benefitted by having an extra 5 minutes. I left the extra construction paper squares with the teacher in case anyone wanted them to work on at home. I also told the kids they could use crayons or markers to fill in their rest of their hearts if they didn't get finished.
It's definitely the perfect Valentine's craft. You only need a printer with paper (or you can write and draw it yourself), some construction paper and some glue sticks. We did go through more glue stick than I expected. I brought eight glue sticks. I had five kids at a time for eight rounds. With 40 kids, we went completely through three glue sticks and made a really good dent in most of the others.
Looking for more Valentine's ideas? Check out these posts!