What I want my kids to know about our country
Part of being a parent is teaching our children. And on days like tomorrow, when we celebrate the 243rd birthday of the United States, I think about what I am teaching my kids about being an American.
Through my years as a mom, I've learned that some lessons come through example rather than words. For instance, when we are out and the national anthem, my children see my husband and me stand and put our hands over our hearts. They do the same. It shows respect for our country, flag and all the men and women who have sacrificed so much for our freedom.
Teaching about the sacrifices made for freedom
I will continue to tell them about those men and women. They know that their Poppy got sent to a jungle when he was just out of high school. He went and did his duty and our family is so proud. They will learn even more what all of that means as they get older and learn more about that war.
I have also shared how their great-grandpas, both of whom passed away before my kids were born, served in World War II — one as a solider and one as a medic. We've also talked about how their Great-Great-Uncle David gave his life in World War II.  They understand this as much as they can at 6 and 9 right now. One day they will understand even more. And I hope that it will continue to make them proud to be Americans, just like has does me.
In school, my children will learn about the Revolutionary and Civil Wars and this country's history. They'll learn of the dark things that our country has done as well as the victories. They will eventually learn about how terrorists attacked our country on Sept. 11, 2001. My husband and I will tell them what we were doing and what we remember of that day. And our kids will start to understand why security is so tight at airports and sporting events. They won't know anything different.
Teaching the good things about America
But, I also want my children to learn more than just war and sacrifice and fear. I want them to learn about all the good things in this country. I want them to understand and appreciate that we have the freedom to say what we want to say, live how we want to live and serve God openly. And I want them to know that it's OK to not always agree with government leaders (it's a wonderful freedom) but at the same time, it's important to always respect the positions they hold.
I want my kiddos to know that they have great opportunities in this country. They can chose to be whatever they want to be when they grow up. They're not limited by government or societal restrictions. 
Teaching them civic duty
I want them to learn the importance of having a voice in the way the country runs through voting. I will continue to tell them the stories of those who fought for the right to vote so they understand the progress that's been made and needs to be maintained.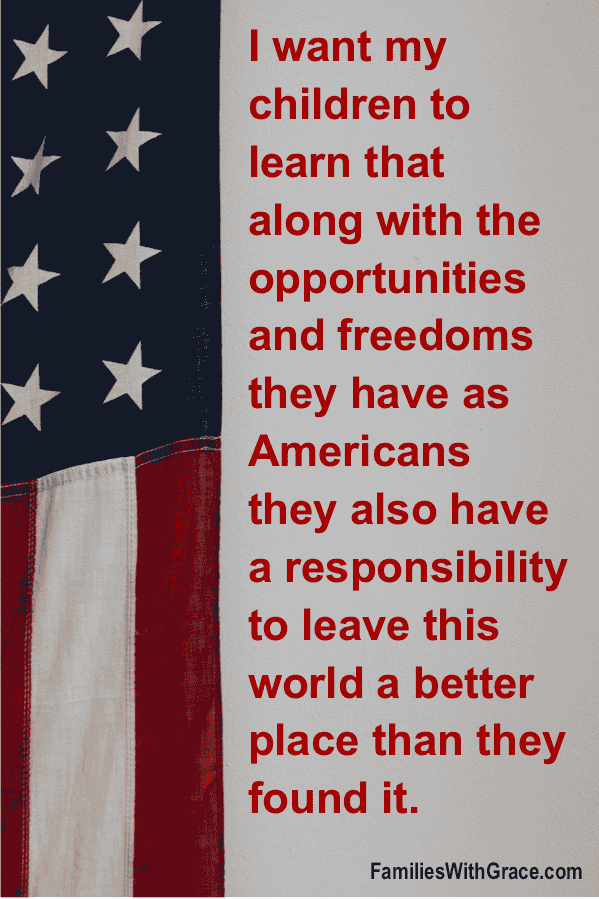 They have learned as well that people have been treated poorly in our country based solely on their gender or the color of their skin. We talk about these stories and the importance of remembering that all people are the same and should be treated well no matter what.
I want my children to learn that along with the opportunities and freedoms they have as Americans they also have a responsibility to leave this world a better place than they found it. They have both already made my world better just by existing, but they are also slowly working to improve the world around them as they get older. I want to do everything I can to foster that growth. I know there is so much more they'll do as they grow up. 
Teaching them faith
Above all, I want my kids to thank God for all of these blessings of being an American and all that comes with it. I want them to continue to learn they can also affect change through prayer.  If God can move mountains, He can certainly move governments.
We've made a start on teaching our kids what it means to be an American and will continue to do so. For this Independence Day, they'll both dress in red, white and blue. We'll celebrate by hosting our first gathering at our new house as we cook out for our parents.
We'll take the kiddos to see fireworks after spraying them down with bug spray and letting them wear glow-in-the-dark bracelets and necklaces. We have a lot for which to be thankful.
Happy Independence Day!