A collection of posts to refresh and inspire your mama heart
Being a mom is awesome — and hard! Some days we are nailing it and have found the right balance of fun and caring for our families. And other days we fall flat on our faces. We question whether we've made the right choices and criticize ourselves. We wonder how prepared our children are going to be for adulthood. We imagine what they'll tell their therapists about us in 20 years.
We fall short. We get frustrated. We are exhausted. We are overwhelmed. Sometimes more than anything we could use some encouragement. A few kind words can go a long way. Knowing we aren't alone can go a long way.
With that in mind, I've compiled a list of links for you to find encouragement for your mama heart today. Some are from Families with Grace and some are from fellow bloggers. All of them will leave you feeling refreshed, encouraged and ready to get back to the business of motherhood!
For mamas who need a reminder of God's presence
God's promise of gentle leading for moms
Sometimes we can feel like nobody understands and we're all alone. But, we're not! God promises to never leave us. And within that, He also has a promise specifically for moms with young children! 
Are we there yet?
Just like our kids ask on long trips, sometimes we wonder if our long, arduous journey will ever get easier. God, are we there, yet?
Young mom — "Some days are just like that"
Hard days come in motherhood, but we were made for more than just survival! Even on hard days (or hard weeks, months or years!) God provides for us.
For mamas who are struggling with contentment
Compare or be content
Not only will mental health experts tell you that comparing yourself to others is just asking for trouble, the Bible also has plenty of advice about it as well.
For mamas overwhelmed by chores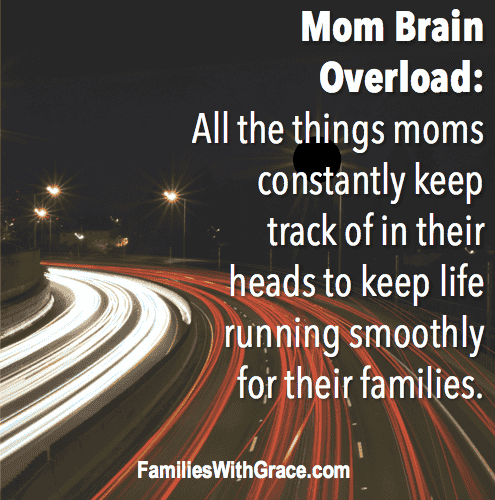 How I stopped being angry at my family
Nobody ever talks about the anger we moms feel sometimes when we get overwhelmed with our tasks and realize that nobody notices or cares what we're doing. It's a miserable state in which to live.
Mom brain overload
Part of motherhood exhaustion is being overwhelmed by the mental amount of information in our heads.
Being a Mary and a Martha kind of mom
While getting chores and other tasks finished is important, we also need to remember to take time to just be with our children and enjoy them. Two sisters in the Bible are a great reminder of this!
For mamas whose strength is running low
Feather like faith to a brick wall resolve
Some days take all of our patience and then some. And we need more than our own strength to get through them while being the mom our children need us to be!
For mamas who are feeling the bittersweetness of growing children
The time of my life? I'm living it now!
Life isn't perfect and motherhood can be hard, but there are sweet moments that remind us how much we love and are loved. It's sometimes the small moments that make the best memories!
Seeing the past, present and future in my 9-year-old
Our children are growing way faster than we want them to. That's true no matter how old they are! It can be such a bittersweet journey.
For mamas who are feeling disappointment in their motherhood journey
Letting go of the expectations of motherhood and embracing the unexpected
Life doesn't usually turn out how we expect, including motherhood. We have to feel the loss of our expectations and then continue moving forward. And sometimes we can find the unexpected is even better!
Just walk one more day
We can feel the hurt of disappointment sometimes and throw spiritual tantrums just like a child who doesn't get her way. But, God is ever and always faithful!
For all mamas!
A parent's prayer — FREE printable!
This parent's prayer is a great reminder of our job and responsibility as moms. What better way to work on the mom we want to be than by approaching parenthood with God?