The Internet is filled with loads of posts about how to get the most out of your Disney World and Universal Florida vacations. I know because I read many of them when my husband and I decided to take our kids on their first flying trip to Florida for spring break last week! I'm not going to give you a comprehensive, everything-you-need-to-know list of tips, but I do have some lessons I learned last week that I think could help you as plan!
Disney World
I am going to start here for two reasons. First, I see the most posts about Disney World. And second, it's the first place we started! I have read lots of posts from folks who seem to have drunk some sort of Disney Kool-Aid and think it's incredibly magical. Of course, they could also be an affiliate of Disney. Neither of those things apply to me! I enjoyed our time at Disney and don't regret going, but Magic Kingdom was my least favorite park of all the parks we visited.
While I had been to Disney World as a child, my last trip there was 30 years ago when I was 9. My husband and kids, who are 6 and 9, had never been there. Our original plan was to get a 5-day pass for Disney and spend the whole week at Disney parks since they have so many of them: Magic Kingdom, Epcot, Animal Kingdom, Hollywood Studios, Typhoon Lagoon and Blizzard Beach.
Know what is at Disney — and what isn't.
We prepared ourselves with ideas of what we wanted to do. I checked websites and talked to friends who had been there. We started reading the first "Harry Potter" book to our kids to prepare. And that's where the problem started. Harry Potter isn't at any of the Disney parks. Then we realized that though Disney owns Marvel Studios, it doesn't have the rights to Marvel for rides and such.
Both Harry Potter and Marvel are part of Universal Studios Florida, which is not only separate from Disney World but is a direct competitor. As we looked at Universal, we realized our kids know a whole lot more Universal characters than Disney ones. With Harry Potter, Marvel Superheroes, Jurassic Park, Transformers, Dr. Seuss, Minions and more, we knew that Universal Studios needed to be on our to-do list. So our plans shifted. I was literally within a day of buying our 5-day Disney tickets when I realized this. I'm glad I did before we spent money on non-refundable tickets and weren't able to do half of what we were looking forward to.
Think about food.
There were two things I'd read most about food at the Disney parks. One was that if you wanted a sit-down restaurant or character dinner, you had to book months in advance (and MAYBE sign away rights to your oldest child). I didn't worry about that so much because a sit-down dinner wasn't something we were interested in. A character dinner sounded fun (especially at the Be Our Guest restaurant since I'm a HUGE fan of "Beauty and the Beast"), but I realized we were going to want to spend more time in the park since we only allotted two days for Disney.
What I wasn't prepared for was the lack of other food. I assumed that like most theme parks I'd been to that Disney would have various stations of quick foods to grab in between rides. I also assumed that since it is a place that caters to kids that it would have plenty of kid friendly foods. I was wrong. We were disappointed in Magic Kingdom. We checked menus through the Disney App and found that there weren't many grab-and-go options available anywhere unless we wanted just a Mickey ice-cream for lunch. We ended up tracking down an OK and over-priced lunch. Over-priced I expected, though. I mean, it's a theme park! We struggled for dinner even more and ended up with sweets at the highly over-priced Gaston's Tavern. (I kinda hated to support Gaston…)
Does good food for families exist at Magic Kingdom? I'm sure it does based on what I've read online, but I didn't find it readily available where we were at any time for lunch or dinner. So definitely do research and decide where you'd like to eat then plan your day around that. Seriously. Magic Kingdom is large and so busy that you can't walk across it to get to dinner and then return to where you were. You can also bring along your own food. While we talked about doing so, we decided not to because we didn't want to bring a backpack, but I totally wished we had!
I will say we had much better luck at Epcot, which was the other Disney park we visited, but I also had to scope it out ahead of time and plan our day around it. I was up at 6 a.m. that day reading menus on the Disney app.
Decide on bringing a bag.
There are lots of people with backpacks at Disney parks. I found lists ahead of time of all the things you can or should bring with you to Disney. We were on the fence about it and then decided to forego bringing a bag. Here's what I will say, if we still had a kid in a stroller, I'd totally take a backpack of stuff! But, we don't. I didn't want to take my purse because thanks to my fibro, no matter how light it is, it hurts my shoulder by the end of the day.
So, we figured out our essentials and were able to fit them in our pockets. My husband in charge of cash since he carries cash in his pocket anyway. He also carried a small tube of sunscreen that we used for touch-ups throughout the days as needed. My pockets contained my cell phone, ponytail holder, small pill container with meds I needed and lipstick.
My parents were with us, and my mom brought a small purse. She had hand cleaner for all of us, so I didn't worry about that, but I also had individually wrapped handi-wipes that fit in my pocket, too. BUT, her purse did teach us one thing about security. There are different lines based on whether you have a bag or not. If you do have a party member with a bag, once the bag is checked, you all get through without having to go through the metal detectors. It actually made security go a bit quicker for us since there were six of us.
Go to Epcot.
We had two days. I figured we would spend them both at Magic Kingdom or maybe the second one at Animal Kingdom. But my 9-year-old daughter surprised both my husband and me with how much she wanted to go to the "Frozen" section at Epcot. She'd be sad if she didn't get to go, in fact. We looked at Epcot and its rides. We debated back and forth just a bit, but of course we gave in. Because she's 9 and chances are the next time we take her to Disney she won't be into princesses. Then a friend told me that Epcot was totally worth it and wasn't what I remembered as boring from my own childhood.
I am so glad we went. It was my favorite of the two Disney parks we visited! Epcot wasn't as packed. It offered more places to sit and had stellar rides. I loved almost every single one of them — seriously! The only ride I didn't enjoy was Mission Mars, because despite my instincts telling me to go for the less intense mission, I went with the harder one and didn't feel great for a short time afterward. And I highly recommend the Soarin' ride. It was phenomenal for everyone from my 6-year-old to my parents!
"Frozen" did have a super long wait for the ride, but we had a Fast Pass for it, which was nice other than missing out on some of the scenery in the wait line. My biggest regret for Epcot is that we didn't have time to go all the way through the various countries.
Beware that not all character experiences are created equal.
While I knew a character dinner wasn't going to fit into our time for the Disney parks (and I hadn't started planning six months ahead), I did want to have some character interaction.
I got us a Fast Pass at Magic Kingdom for StoryTime with Belle, because it seemed to be filling up and I love Belle. LOVE Belle! But, it was disappointing to me. My kids enjoyed it, because it was 100 percent focused on kids. But we got very little time with Belle and no photo opps for the adults, only for the kids.
The kids were separated from us a bit for this as well, which I didn't like because part of the fun of Disney is seeing their faces light up. The other thing to know is that the story time offers various roles to re-enact the stories, but not all kids get chosen for much. Long story short, it wasn't so worth it and I regret using a Fast Pass for it.
However, it was our best way to see a character at Magic Kingdom. We didn't see any characters walking around in the actual parks, which I thought they might do. Of course, they could totally do that and we just missed them. But of the two days at Disney parks we didn't see that happen.
We did one other character experience, though, and that was at Epcot. It was great! We had photo opportunities with Mickey, Minnie and Goofy. We were able to take photos of just the two kids, of the four of us and with my parents as well. My parents also did photos just the two of them. And we got one priceless one of my dad kissing Minnie Mouse on the cheek! We had a 20-minute wait for that, and it was definitely worth it. I also appreciated that the photographers were more than willing to take a photo for you with your phone so you didn't have to rely just on paying for the Disney photos.
Consider Magic Bands.
Since we didn't stay on a Disney property Magic Bands weren't included for us. We debated about whether they were worth it for $15 each for the plain ones. In the end, we decided to get them and I did like them. It made getting into the parks a breeze as well as the Fast Passes. You could totally do it with tickets, but the bands really did work well. I was almost disappointed that we didn't have something similar for Universal. And my kids thought getting to wear them was super cool!
The Magic Bands also let us have most photos sent automatically to our account so we could decide whether to buy them. We didn't do the $200 photo pass for Disney. But, you can opt to spend $80 for a day's worth of photos or order products with the photos on them to get whether you get any of the access.
Along with photos there were a couple of experiences that worked in the Magic Bands. The end of It's a Small World featured our names thanks to them and so did a ride at Epcot. Pretty cool!
Universal Studios Florida
Plan ahead where you can.
There are a couple of big differences between Universal and Disney. First is that the two main parks we went to (we didn't go to Volcano Bay, which is a water park) are close to each other. I didn't pay for a Park Hopper at Disney, but I did for Universal and don't regret it. If you want to ride on the Hogwarts Express, you have to have a multi-park in the same day ticket, because it takes you from one park to the other. That was our main reason for getting those tickets, but it worked well because the Universal Studios Florida and Islands of Adventure are so close together. Islands of Adventure includes the Marvel superheroes. Both parks include Harry Potter experiences.
But unlike Disney, Universal doesn't automatically offer a Fast Pass system. Its Express Pass costs around $100 per day per ticket. If you stay on their properties, it's included free, but we didn't stay on their properties. Express Pass works on any ride at any time, though, so its flexibility would be nice.
If you don't have Express Pass (and we didn't because the cost was pretty substantial), you need to know what rides have long waits and head there early. The two days we were at Universal seemed pretty slow in the mornings. Not so slow that there was no wait, but definitely it worked best to be there early and head to popular attractions first like Escape from Gringotts and even Olivanders.
Find characters everywhere.
Another notable difference at Universal is that we ran into characters all the time. The first day we started with Islands of Adventures and got to meet Spider-man. Listen, I love Spider-man as much as I love Belle and I was pleased that Spidey was so nice and chatted with my son and then was happy to do a photo with me. He even laughed when my son told him that I love him more than my son does. I had a total fan girl moment.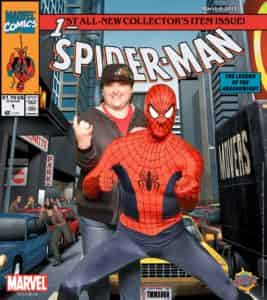 But Spider-man wasn't just it. In the superhero area, every half hour or so, the superheroes take to the streets and you can spy Spider-man, Wolverine, Storm and Cyclops (or at least that's who was there the two days we were). The lines to have your photo taken with them are pretty short as well.
And it isn't only superheroes who are readily available. We saw characters from Madagascar, Transformers, Harry Potter and more I know I'm forgetting.
The photo package is worth it.
Because there were so many character photo opportunities, we decided to get the photo package for Universal. For $100, you get a photo pass that lasts for three days, which is half the price of Disney's. You get a lanyard to wear and every photographer that spies it asks to take your photo. We got some good photos this way and I'm glad we did it!
I will add that the downside to the Universal photo package is that since Universal doesn't do something like a Magic Band then you have to have your photo card on your lanyard scanned in order to have the photos in your account. That means after rides with photos you have to stop by the photo kiosk at the end and such. But it really wasn't cumbersome or inconvenient.
The other downside is that the photos require a separate app from the park's app. But, again, that didn't bother me.
Skip the character dinner.
While Disney has a multitude of character dinners, Universal only offers a superhero one. We were super excited about it and forked over $50 a person to do so. We arrived to find the dinner had been canceled and we hadn't been notified. Talk about disappointing! We got a refund. They offered for us to come the next night, but we weren't going to be at the park that day.
However, I'd skip the character dinner anyway because the characters are so readily available in the park for photo opps. Having more time with them at the dinner would be nice, but if it doesn't work out or isn't in the budget, at least you will get a chance to see them.
Enjoy a wider variety of food.
Universal did better with food. There were lots of different and quick options that were more like what I expected from a theme park. We didn't have trouble finding places to eat in the parks. Even better, we also didn't have trouble finding somewhere to sit to eat either.
Just outside the parks is Universal's CityWalk, which is like an outdoor mall. There are stores and restaurants. Those restaurants can be pretty full in the evenings, but not too bad as we found when we had to go to plan B after our character dinner was canceled.
General tips
Downsize your stuff, including your wallet.
We tried to not carry more with us than necessary. For me that meant cleaning out even my wallet before we left home. My library cards and store credit cards weren't going to be needed on our trip. I took along my debit card, credit card, driver's license and health insurance cards. (And I'm glad I had the health insurance cards since my daughter came down with strep throat halfway through our trip and needed to make a trip to Walgreens' Minute Clinic!)
Get prepaid credit cards for the kids.
Our kids each had spending money for our trip. They had been given some from us and from other relatives and they also had some money saved from Christmas gifts that they used. To make life easier and avoid having to keep track of cash envelopes for both of them, we bought prepaid credit cards for each of them. I wrote their name in a Sharpie on the front of their cards and affixed a Minnie Mouse sticker for my daughter and Mickey Mouse sticker for my son so they'd be even easier to tell apart. We kept track of their balance on my husband's phone. Calling to check the card balance was easy to double-check our math and make sure we hadn't missed a receipt. It worked incredibly well.
We considered getting a Disney card, but the kids ended up with a decent amount of spending money and having the prepaid Visa let them use it anywhere we were.
Check toy prices.
While my kids were thrilled to have their own spending money for our trip, their idea of souvenirs was toys more often than not. My husband and I were OK with that and helped them decide how to best use their money. We expected a price markup in the parks and surrounding areas, but some things were crazy. For example, my son found a Jurassic World toy he wanted. It was twice as much inside Universal's park as it was on Amazon. So we opted to order it from Amazon. And it gave him something to look forward to coming home.
Stop by those cheap souvenir stores.
On our very last day we stopped by a souvenir store with a giant wizard statue on it. I wish we would have gone sooner in the week. While it advertised T-shirts for ridiculously low prices, it also had some decent finds. We got some cool souvenirs there that were nice. I found a tote bag I loved for only $8 and picked up a sweatshirt for $20, which was less than half anything I'd seen at either park and I liked them both better than anything I'd seen.